Serve the Kingdom on our upcoming mission trip to Liberia, West Africa
Declare his glory among the nations, his marvelous deeds among all peoples.
HOPE FOR THE FUTURE

In a culture where education comes at a steep financial cost, it is difficult for impoverished communities to give their children a fair chance at pursuing a better future. That is why we at Kingdom Keys Ministries Tulsa have established Kingdom Keys Academy in the Johnsonville Montserrado County of Liberia, West Africa. One of a few of its kind, Kingdom Keys Academy offers a free government sanctioned k-6 education to families that could otherwise not afford it. Children are able to learn together and play together in a safe, loving environment.
CREATING A SELF-SUPPORTING COMMUNITY

Together with the establishment of Kingdom Keys Church Liberia, we are enriching the community spiritually, socially, and economically by creating jobs for local teachers, providing aid for cultivating nearby farmlands, and giving support to the local church to grow and mature. But we need your help.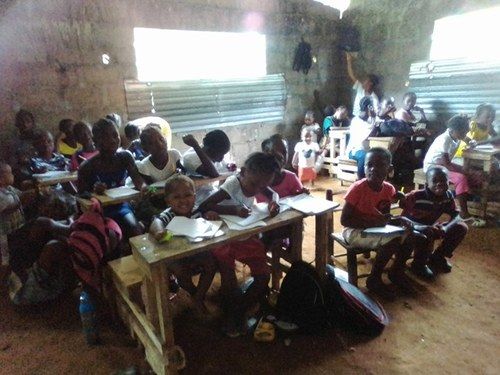 PARTNER WITH US

In November 2020, Pastor Natacha, together with the KKM missions team, is taking the first of many trips to visit this community and bring school supplies and other aid. Join us in supporting our African brothers and sisters with your generous donations. Gifts of $50 or more are tax deductible. Please give by completing the information below or you may send checks, money orders and/or supplies to:
Kingdom Keys Ministries
c/o KKM Missions
8720 E 61st St, Tulsa, OK 74133.
Donate: If you already have school and office supplies that you do not need (regardless of the quantity), please send them to us. We welcome new and gently used supplies of all types.
Collect: If you would like to collect and send us school supplies, then you are also in the right place. We welcome your desire to help.
Shipping Costs: Please help us by donating to help cover the cost of shipping to get these supplies where they need to be. A single drum costs over $200 to ship to Africa. Every dollar donated gets us one step closer to getting these supplies into children's hands and we want to get ALL of them into the hands of the children that they were donated for.
Also needed:
Regular #2 wooden pencils
Pencil cap erasers
Quality ink pens
Individual pencil sharpeners
Crayola crayons
Block erasers
Glue Sticks
Metric rulers/protractors
Solar powered calculator
Children's school scissors